When it comes to delivering audio content, nothing beats the power of voice-over. Not only is voice-over more engaging and easy to understand than text-only audio explanations, but it also conveys emotion and creates a more immersive experience for your audience.
As a company that specializes in providing voice-over services, shoreline translation is well-equipped to handle any audio needs you may have. From transcription to video narration, we have a team of multilingual voice-over experts who can deliver the perfect results every time!
Get Quote Request Today or Call us
Hire Dubai Voice-Over Shoreline translation Services
Whether you're looking for commercial voice-overs or educational recordings, you can find the perfect talent in Dubai. Our team is experienced and qualified, and we will help you take your project to the next level.
We have a wide range of talent available, including male and female voice-overs in several languages. We also offer a fast turnaround time and a professional quality audio output. So why not give us a call today and find out more about our voice-over services?
Corporate / Industrial Voice over Services
There is no doubt that a professional voice-over studio can give your business an edge over the competition. From sourcing the right talent to delivering top-notch services, shoreline translation offers a comprehensive range of audio production options that are perfect for businesses of all sizes.
As Dubai continues to emerge as one of the most popular locations for voice-over studios, it becomes even more important for businesses operating in this field to find the right fit. By considering different features like recording time zones and language provision, you can make sure you get what you need without any hassles or surprises later on.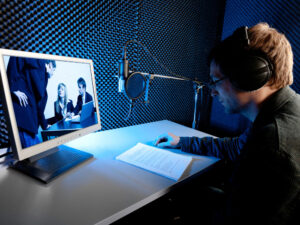 Commercial Voice over Services
Before making any decision, it is important to get our professional voice-over quote. You can find talent for a variety of purposes – from corporate videos to website narration. At Shoreline Translation, there are various types of voice-over studios.
We offer quality recordings at affordable rates. Plus, with the city's vibrant and constantly growing commercial scene, there are many opportunities for voice-over artists to take advantage of!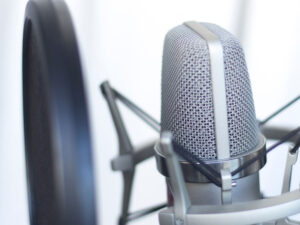 Voice Over for Advertising
Advertising can be expensive and time-consuming, which is why voice-overs are a great option. They're an effective way to reach a large audience quickly and cheaply. Plus, there are many options available when it comes to quality voices, so you can be sure to choose us for your project.
Voice Over for E-learning
Adding voice-over to your e-learning projects can be a great way to make them more engaging and fun for your students. Choosing us for the right voice-over service is essential to getting the best results. There are a variety of voice-over services available, with different formats and capabilities. We can narrate entire courses or just specific sections.
This type of voice-over can be done in audio, video, or text transcripts. As with all things e-learning, using voice-over services can make your courses more engaging and fun for your students.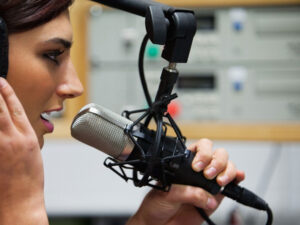 Voice Over for Documentaries
For documentaries, a great voice-over is someone with a deep, grave voice. This type of voice-over can be used for serious or dramatic films. To get the perfect sound for your documentary, it's important to have an accurate script and timing logs.
Make sure you choose shoreline translation that has experience in the genre you're working on! Finally, make sure to test the voice-over for your documentary on different devices and platforms to make sure it sounds perfect on all of them.
Human Voice-over Services
Having a voice that is natural and consistent is key when it comes to making video content. That's why shoreline translation offers the best human voice-overs in Dubai. We have years of experience working with various businesses, and our team has the skills of professional voice artists and professional voice-overs, professional tone, professional voice actors, voice over artist the knowledge necessary to produce amazing results.
From video narration to advertising and product videos, we can help you create high-quality audio content that will wow your audience. Plus, our wide range of services means you are sure to find what you're looking for! Contact us today for a free consultation – we would be happy to discuss your project in further detail!
Why choose shoreline translation's voice-over services?
Creating marketing materials, website content, or telemarketing calls can be a daunting task. That's where shoreline translation voice-over services come in! Our team of experts has years of experience in the voice-over industry, and we're here to help you create the perfect voice-over for your specific needs.
With a wide range of accents and dialects at our disposal, we can ensure that your voice-over project is delivered accurately and on time. We know the importance of quality works, and that's why we take the time to review your project carefully before starting it so that you can be sure you're getting the best possible service. Contact us today to get started!
Contact Our Voice over service today
Here at shoreline translation, we understand the importance of quality voice-over services and strive to provide the best possible service to our clients. Our voice-over services are suitable for a variety of purposes, such as video narration, corporate videos, and audio-visual materials.
We believe that voice-over services are an essential part of any business and are committed to providing the best quality service possible. So if you're looking for professional voice-over services that will help your business reach its potential, then you've come to the right place!